For friends, families and food lovers
Delight in the heart-warming atmosphere and savour our sumptuous festive menu brimming with the finest local ingredients. For that extra touch of Christmas magic, choose to dine on the outdoor terrace with twinkling fairy lights and extra-boosted heating.

Enjoy festive lunch and dinner until 27th December. Brasserie closed 24th – 26th December.

Book a Table
or call us on 028 9185 2500
Good, Honest Food
The Coq & Bull's warm welcome is matched only by the quality of its menu, produce, chefs and service. We call it good, honest food. No tricks, no flimflam. We know what works. We know what looks good and what tastes great. The Coq & Bull is a place to savour. Heartfelt flavour. Soulful food.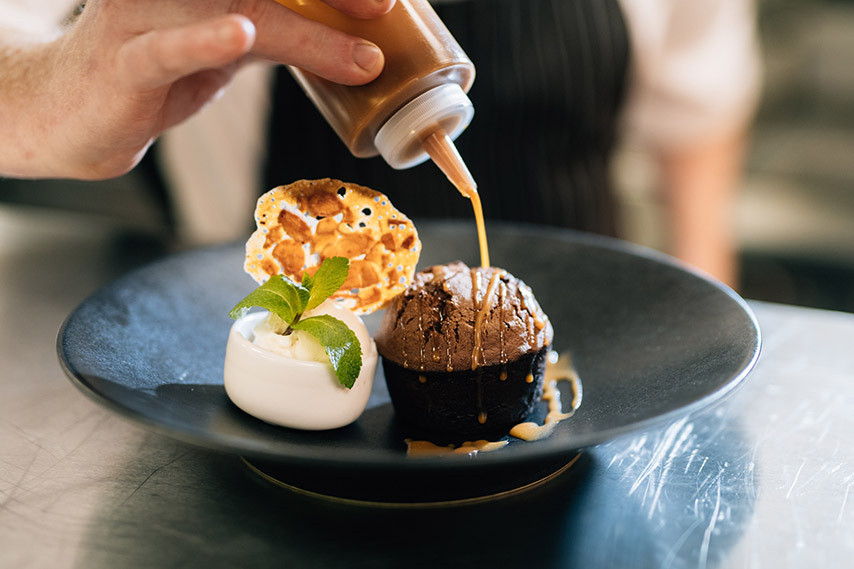 Lovingly Local
We're homegrown – part of the whole local deal. Artisan produce from the farms around us. Grass-fed dairy from the fields of County Down. Vegetables dug from the soil of the Ards Peninsula. Organic chicken and beef reared in Northern Ireland's rain-washed pastures. Fish freshly caught in the Irish Sea. We love local.
What our guests say
Latest Reviews
We had an excellent family meal on our latest visit to the Coq and Bull. We sat in the terrace area and had fantastic service from Ryan and his team. The new menu had plenty of great options - overall a great dining experience!

First class dining experience
Having dined in two Michelin restaurants the previous month, I knew the standard needed to be high, and it did not disappoint at all! Thanks to the staff, arguably the current best dining experience available in Bangor.
We sat in the outdoor area - I had my reservations prior to attending that it would be cold but surprisingly the table and stand alone heaters did make the area cosy. Service is excellent and staff so friendly.
Great food, service and value
We always dine at the Coq & Bull when we visit Northern Ireland, our favourite dining experience. Great food, great service and great value... we will be back before we head home to Toronto.
The interior is beautiful - very clean and comfortable dining area, the comfiest seats I've sat in at a restaurant! The lighting is warm and not overpowering making for a relaxing atmosphere. Excellent quality ingredients cooked beautifully.

One person in our group was a coeliac and also follows a strict gluten free diet. She was given excellent details about her dining options. The whole group was impressed with the personal attention and care given.

We had a lovely night for our mums night out for Christmas! We had no issues with booking and our menu choices were checked on arrival. The food was absolutely gorgeous and the service as always was exceptional!
Among Friends
Eating with friends. Hard to beat. It's simple, we look after people. The Coq & Bull is the place to be. And it's not just the food. It's the lighting, the music, the service, the understanding and the sense that for that moment, there could be nowhere better. Relaxed, at home, at ease. Dining has never been so enjoyable.