Clandeblog

10 unique wedding suppliers & inspiration for your Clandeboye Lodge wedding
Are you planning your Clandeboye Lodge wedding and looking for some inspiration?
We've pulled together some quirky ideas from some of our favourite local wedding specialists in Northern Ireland who will help make your wedding day extra special! At Clandeboye Lodge, we have lots of wedding suppliers that we love working with. We just couldn't include them all in one blog post, so here is a selection...
1. Personalised wooden decor
Little Barn Designs specialise in personalised, wooden products ranging from welcome signs and table plans, to personalised wedding hangers. Available to buy or hire, they add some rustic charm to your big day and complement the Clandeboye Lodge decor perfectly!
2. Unique venue styling
When it comes to wedding decor and styling, the team at MOOD Events are sure to impress! Drawing inspiration from your unique style, they can create your room décor theme, including designing your table settings which will elevate your wedding reception. We love how MOOD Events creates a touch of warm ambience with light curtains and drapes in our Viceroy suite.
3. Stunning drinks feature
Wow your guests and enhance your special day with a show-stopping drinks feature from Champagne Memories. Whether you're looking for a stunning champagne fountain or a funky 'Pimp Your Prosecco' station, this is a unique way to upgrade your current wedding package! This works well in our spacious Sheridan suite where guests can enjoy a pre-dinner drink in a stylish setting.
4. Floral ceremony arch
Our Blackwood suite is stunning as it stands. However, if you're dreaming of making your ceremony extra special why not make an elegant statement with a ceremony arch? We love floralearth for their stunning floral arrangements!
5. Quirky wedding transport
Why not arrive in style in a VW Campervan or Beetle? Our friends at Logybear have a range of quirky campervans and cars for hire on your wedding day. With a range of different styles and colours to choose from, you can find the perfect VW Campervan or Beetle to match your wedding theme. As an extra bonus, this makes for a unique backdrop for your wedding photos!
6. Wedding cake backdrop
Make your wedding more Instagramable with a bespoke cake backdrop that will perfectly complement your wedding theme! Quirky Kitten is an event décor stylist and can provide you with stunning backdrops, sustainable faux floral design, table décor and signage to make your wedding setup truly unforgettable.

7. Wedding ceremony string quartet
Elevate your wedding ceremony to a new level of elegance with the beautiful sounds of Ionian String Quartet! Let their romantic melodies fill the air, creating an unforgettable atmosphere for you and your guests.
8. Wedding photo booth hire
For a unique and fun photo booth experience, look no further than Mr Photobooth NI. Complete with props and costumes, guests will love getting creative for photos that will provide lifetime memories wedding day!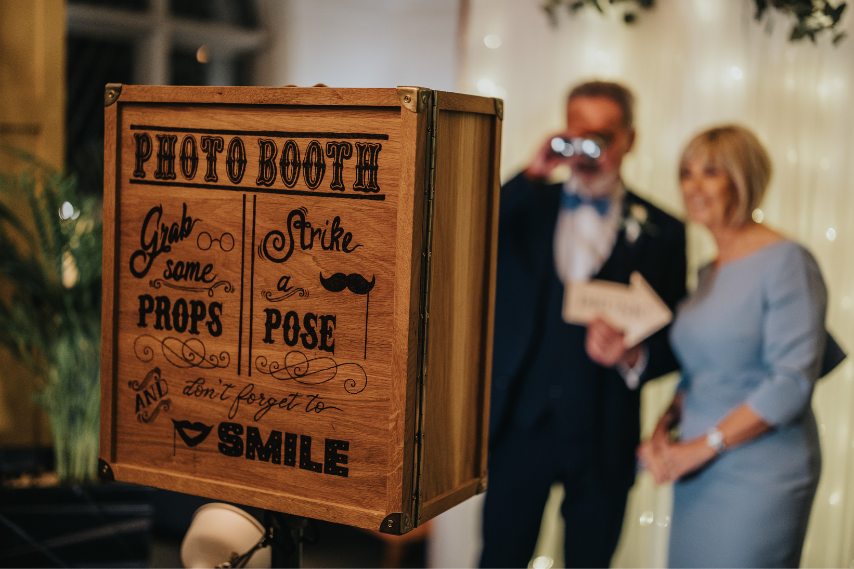 9. Mobile drinks bar
When you're looking for a way to keep your guests hydrated and happy, there is nothing better than a mobile drinks bar! Fizz Matters serves a delicious range of drinks from the cutest little van, ensuring guests are entertained and refreshed. This works well in our Sheridan terrace courtyard area beside the cosy fire pit. The perfect place for your guests to mingle.
10. Dog chaperone service
Give your wedding an extra dose of cuteness by inviting your four-legged best friend! Misa's Pals wedding dog chaperone service, based locally in Bangor, is the perfect solution to allow your dog to be part of your special day.
Our Spring and Autumn Wedding Fairs are a great chance to find inspiration for your big day. Our next Spring Wedding Fair is Sunday 26th February from 12-4pm. Find out more here.