Clandeblog

5 reasons to dine alfresco on Coq & Bull's outdoor terrace
Looking for a unique outdoor dining experience to dine alfresco in Northern Ireland? The Coq & Bull's outdoor terrace is a hidden gem!
Here are 5 reasons to dine alfresco on Coq & Bull's outdoor terrace:
1. Scenic grounds and garden views
Our outdoor terrace is surrounded by beautifully landscaped gardens making it a scenic spot to enjoy your meal outdoors. There's no better way to appreciate nature than by indulging in a delicious meal al-fresco!

2. Outdoor heated terrace
It's the perfect spot for all seasons. In Summer, enjoy al fresco dining as you take in the beauty of the colourful flowers, vibrant greenery and mature trees that surround you. And when winter comes around, you can still find warmth under the twinkling fairy lights and heaters. Our outdoor terrace area is not only covered but each table has its own heater to provide extra comfort.
3. A relaxing atmosphere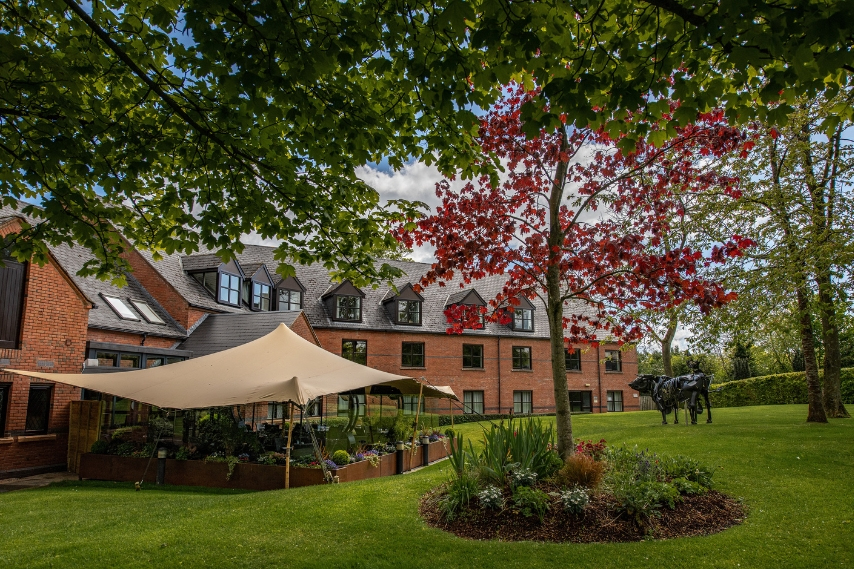 The Coq & Bull brasserie is situated on the hotel grounds of Clandeboye Lodge, 15 minutes from Belfast. The peaceful surroundings of the outdoor terrace offers an escape from the hustle and bustle of city life. It is the perfect spot to relax outdoors whilst enjoying good, honest food and drink.
4. Tailored menu (local, seasonal, gluten-free and vegan-friendly)
We take pride in using locally sourced, seasonal ingredients to create a menu that celebrates the flavours of Northern Ireland. Our menu also has vegan and gluten-free options. The outdoor terrace provides an ideal setting to savour these delicious dishes!
5. Expertly-crafted cocktails and drinks
When the weather is nice in Northern Ireland, there's nothing better than enjoying drinks outside with good company! Our talented bartenders craft expertly made cocktails and also serve refreshing beers and a wide selection of wines - the perfect spot for outdoor drinks!
The Coq & Bull brasserie outdoor terrace is a hidden gem that offers a unique and unforgettable outdoor dining experience in Northern Ireland. View the latest menu and book a table.